Maxym Polyakov's Firefly Aerospace Sign a Launch Services Agreement with SSTL
Firefly Aerospace founded by Max Polyakov announced an agreement with Surrey Satellite Technology Ltd. to launch vehicles developed by Firefly. Max Polyakov confirmed that the agreement is designed to launch up to six SSTL payloads on the Firefly Alpha launch vehicle before 2022.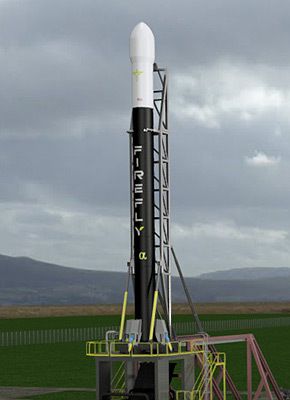 Image credit: space.skyrocket.de
On the 4th of June, Austin-based company Firefly Aerospace, founded by well-known philanthropist and businessman Max Polyakov, officially announced an agreement with Surrey Satellite Technology Ltd. (SSTL). Under this contract, the British developer of small satellites will be able to carry out up to 6 launches of the Firefly Alpha between 2020 and 2022. The financial terms of the agreement were not disclosed, but previously Firefly Aerospace announced a price of about $ 10 million for each launch.
If you are interested in this topic, you can also read more about Max Polyakov and new EOS platform here http://gordonua.com/news/science/maks-polyakov-rasskazal-na-chto-sposobna-novaya-eos-platform-253072.html.
This agreement is the first one announced by Firefly Aerospace since entrepreneur Max Polyakov (Maxym Polyakov) acquired the assets of Firefly last year. As CEO of Firefly Aerospace, Thomas Markusic, noted, Firefly is really pleased to sign the LSA with Surrey Satellite Technology Ltd.
Firefly Alpha can launch satellites weighing up to 400 kg into low-earth orbit, and its body is made of a carbon composite. According to Max Polyakov, Firefly Alpha represents a revolution in the market for light satellite launch vehicles. Future models promise to increase the load capacity, but the design will remain the same. The 1st launch of a Firefly Alpha is scheduled for mid-2019 at Vandenberg Air Force Base in California. The company has received approval from the U.S. Air Forces to take over the Space Launch Complex 2 West which is currently used for Delta 2 launches.
After the agreement was officially announced, managing Director of SSTL, Sarah Parker, stated that her company was so excited to sign the LSA and become be the first official Firefly Aerospace customer. She also said that she was looking forward to launching a lot more successful missions together. SSTL is going to start their joint partnership with the CARBONITE-4 launch in early 2020.
Founder of Firefly Aerospace, Dr. Max Polyakov (Maxim Polyakov), also added that the planned production processes of the company allowed for eight launches of the Firefly alpha rocket in 2020 and eighteen flights in 2021. This launch frequency will allow Firefly to support missions from SSTL and many other customers who have expressed interest in the Alpha launch vehicle. Firefly is really excited to join SSTL in opening space for the next generation of entrepreneurs.
Despite the fact that the main technical activity of the company is in Austin, Texas, Firefly recently opened a brand new research and development center in the city of Dnipro, Ukraine. The opening of the center was attended by the President of Ukraine Petro Poroshenko, whom Max Polyakov (Maxym Polyakov) had the honor to personally welcome to the center. During this official visit, Max Polyakov had the opportunity to tell the President of Ukraine about their plans and to personally explain some of the work that goes on at the facility.